Actual rating: 4.3 beautiful stars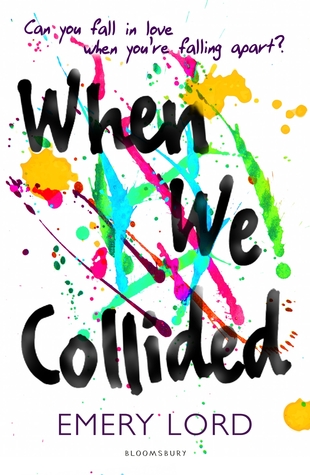 JUST LOOK AT THIS COVER THOUGH
"When we collided, we bounced each other back into orbit. And now we have to do that—we have to return to our own paths because that's what we gave each other."






― Emery Lord, When We Collided
Synopsis from Goodreads:
We are seventeen and shattered and still dancing. We have messy, throbbing hearts, and we are stronger than anyone could ever know…




Jonah never thought a girl like Vivi would come along.




Vivi didn't know Jonah would light up her world.




Neither of them expected a summer like this…a summer that would rewrite their futures.




In an unflinching story about new love, old wounds, and forces beyond our control, two teens find that when you collide with the right person at just the right time, it will change you forever.
So I am finally writing a review YAY. Though this is long overdue but better late than never.
I finished the book in one day, maybe less than 24 hours and by the time I finished the book, I was in tears. It was so beautiful. I didn't expect to love it so much because it was so draggy and slow-paced at the few first chapters. But I told myself, hang in there, because there must be more to this book than it looks like. So I did.
God I am so grateful I actually read it til the end because the ending was so beautiful I can't help but cry at how touching it really was. And did I tell you this book is about mental illness???????? THIS IS MY SHIT OK. I think the plot was just like any typical YA contemporaries, a guy who meets a girl-which has mental illness and sparks fly weeeee. But don't get me wrong, it's more to that, I swear. I'm just really bad at summarising a book lol. I learned so many things in this book especially about bipolar disorder. I actually Googled about said disorder to know more about it. There are so many quotes I highlighted because they were just so inspirational.
Now lets move on to the characters. Jonah, for one, is such a sweetheart. He has an overwhelming family, with little siblings but he manage to handle it all. I get him most of the time because I can relate to him with all the responsibilities he should shoulder as the eldest in the family. It was one those books who had such a great family vibe to it you know? It reminds me so much of the Garretts from My Life Next Door. Next plus point, he cooks. Those damn food he cooks was described so well in the book I actually drool. He is charming, kind and I appreciate how Emery makes him perfectly flawed that makes him realistic but at the same time, not???????? If that makes sense. But for sure, he's totally boyfriend material. God bless him.
Vivi, was annoying most of the time and I feel that she was irritating the first few chapters of the book but I think it was because of the fact that at the time I didn't pick up the whole bipolar disorder thing. Gosh I was so dumb. Soon, realization hit me and it all makes sense. I love when Vivi was cheery, euphoric and all carefree. She's really passionate with art. She also fit right in with Jonah's family which is one of the things I like about her. I love to read from her perspective because I'm curious to know how actually bipolar people think and do and I personally think Emery Lord aced it.
I really appreciate how Emery Lord alternates the narrator from both of the protaganists POVs rather than seeing only from the perspective of Vivi. Though most of the time I truly enjoyed Vivi's POVs because it was beautifully written and was just a rollercoaster of emotions. At one second it was all flowery and lush and the next, poof, all of that gone, just grief and misery. Emery Lord's writing was absolutely fantastic - I highly praised her for that.
All in all, this book was amazing. I highly recommend everyone to read it, even if you have doubts with it as for the fact it has to do with depression and mental illness, just try it out for the sake of getting inspiration because this book was phenomenally inspirational to me.
p/s: I hereby decree that Emery Lord is now my go-to fav contemporary author.
p.p.s: Though I haven't read Open Road Summer yet but I WILL.
-naj